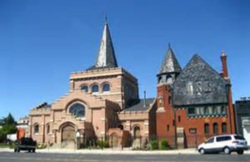 St. John's is a welcoming and inclusive church home where all are welcome, all are necessary.
An excerpt from
The Baptismal Covenant:
Will you proclaim by word and example the Good News of God in Christ?
Will you seek and serve Christ in all persons, loving your neighbor as yourself?
Will you strive for justice and peace among all people, and respect the dignity of every human being?
Join us as we respond with a resounding "I will, with God's help."*
St. John's downtown location affords the parish with opportunities to reach out and work with other downtown organizations, and to support, speak out for, and minister to the residents of downtown Stockton. This parish lives out the baptismal promise of striving for justice and peace among all people, and respecting the dignity of every human being. St. John's is an inclusive parish family made up of people of all nationalities, colors, sexual orientations, gender identifications, ages, states of life, and home/homeless status. ALL are welcome, ALL are necessary.
The HUB
(
Helping Urban Bicyclists
) - Bicycle Ministry. Enter from Miner Avenue, one door East of the parish hall.
Visit the HUB on Facebook.
HUB hours, Tuesday and Thursday, 10am-4pm and Wednesday, 1pm-4pm.
​
Noonday Prayer Service
- Every Wednesday at 12:10 PM
​
Music Ministry
- Provides special music for Sunday services. St. John's is blessed to have excellent acoustics, a fine pipe organ, and a grand piano. Scroll down to view our Sunday bulletins beginning with the first Sunday in Lent, 2017.
St. John's:
provides office space for the non-profit Puentes organization
provides meeting space for Narcotics Anonymous
provides meeting space for Recovery International. RI gives people the tools to lead more peaceful and productive lives. It offers a cognitive behavioral training method developed by the late neuro psychiatrist Dr. Abraham A. Low. For over 80 years this method has helped members learn to identify and manage negative thoughts, feelings, beliefs and behaviors that can lead to emotional distress and related physical symptoms. RI helps people manage Anger, Depression, Fears, Anxiety, Bipolar Disorder, Stress, Panic Attacks, Schizophrenia, and more. It is non-profit, secular, and although it uses methods devised by Dr. Low, groups are led by experienced non-professionals.

Weekly RI meetings are on Fridays, 6:30-8:30 PM, in the office building conference room.
For additional information, call (209) 684-8204.
---
​
​Glory to God whose power, working in us, can do infinitely more than we can ask or imagine: Glory to him from generation to generation in the Church, and in Christ Jesus for ever and ever. Amen.
Ephesians 3:20
*Read the entire
Baptismal Covenant
on the
Episcopal Church Website
.